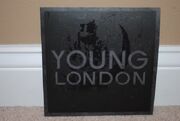 "Young London" is the third track  from the album Love by Angels & Airwaves. It was released in February 14th, 2011.
There is no music video for this song.
Another version of this song called "Young London (Remix)". This remix is on the EP Stomping The Phantom Brake Pedal release on December 18, 2012.
Track Listing
Edit
"Young London" – 5:03