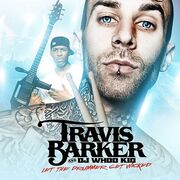 Let the Drummer Get Wicked is a mixtape by blink-182 drummer Travis Barker. It is hosted by DJ Whoo Kid, and was released on February 21st, 2011.
Track Listing
Edit
"Can a Drummer Get Some?" feat. Swizz Beatz, Game, Lil Wayne & Rick Ross- 3:22
"Come N Get It" (performed by Clipse) - 2:41
"Never Holding Me Back" (performed J. Cole featuring Travis Barker) - 2:12
"Detroit" (performed by Royce da 5'9") - 4:23
"Joaquin Phoenix" (performed by Lupe Fiasco featuring Travis Barker) - 2:48
"Perfect Match" (performed by Lloyd Banks featuring Fabolous)- 3:33
"Ol' Dirty Bastard" (skit) - 0:14
"Nymphomaniac" (performed by Wyclef Jean featuring Jim Jones) - 3:58
"Champagne" (performed by Wiz Khalifa featuring Travis Barker) - 3:37
"H.A.M." (Travis Barker Remix) (performed by Kanye West & Jay-Z) - 4:24
"Me Against the World" (performed by Tony Yayo) - 2:41
"Something" (performed by Big K.R.I.T. featuring Travis Barker) - 4:04
"My Homeboyz" (performed Waka Flocka Flame featuring Travis Barker) - 1:50
"Hard Liquor" (Tech N9ne's freestyle rap) - 4:01
"Drum Roll Please" (performed by Killa Kyleon) - 2:11
"Snap" (performed Too $hort) - 3:32
"Big Nut Bust" (performed by Big Sean featuring Travis Barker) - 2:52
"Hard Shit" (performed by Three 6 Mafia) - 1:40
"Napalm" (performed by Xzibit) - 4:13
Background
Edit
This mixtape was released in promotion of Barker's album, Give the Drummer Some.
Ad blocker interference detected!
Wikia is a free-to-use site that makes money from advertising. We have a modified experience for viewers using ad blockers

Wikia is not accessible if you've made further modifications. Remove the custom ad blocker rule(s) and the page will load as expected.