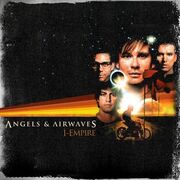 I-Empire is the second album released by Angels & Airwaves. It was released on November 1st, 2007, debuting at #9 on the U.S. Billboard 200 chart, with over 65,000 copies sold within the first week of its release. As of February 2009, the album has sold 250,000 copies in the U.S. and over 500,000 worldwide.
The previously album is We Don't Need To Whisper released in 2006.
The following album is Love released in 2010.
Track Listing
Edit