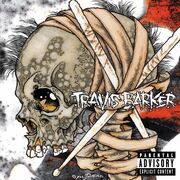 Give the Drummer Some is the first and only solo studio album by blink-182 drummer Travis Barker. It was released on March 15th, 2011. The album is hugely influenced by Barker's time in The Transplants. It deviates from his usual work of punk and pop punk music, containing hip hop and features many different rappers.
Track Listing
Edit
"Can a Drummer Get Some" feat. Lil Wayne, Rick Ross, Swizz Beatz & The Game - (3:21)
"If You Want To" feat. Pharrell & Lupe Fiasco- (3:53)
"Carry It" feat. RZA, Raekwon & Tom Morello - (3:57)
"Knockin'" feat. Snoop Dogg, Ludacris, E-40 & Dev - (4:01)
"Jump Down" feat. The Cool Kids - (3:07)
"Devil's Got a Hold" feat. Slaughterhouse - (5:53)
"Let's Go" feat. Yelawolf, Twista, Busta Rhymes & Lil Jon - (3:13)
"Saturday Night" (Performed by the Transplants & Slash) - (3:24)
"Cool Head" feat: Kid Cudi - (4:40)
"Raw Shit" feat. Tech N9ne & Bun B - (3:19)
"Just Chill" feat. Beanie Sigel, Bun B & Kobe - (3:29)
"Beat Goes On" feat. Cypress Hill - (4:20)
Deluxe Edition Bonus Tracks
Edit
"On My Own" feat. Corey Taylor (3:45)
"Don't Fuck With Me" feat. Paul Wall, Jay Rock & Kurupt - (4:22)
"City of Dreams" feat. Clipse & Kobe - (4:47)
"Misfits" feat. Steve Aoki - (9:10)
Ad blocker interference detected!
Wikia is a free-to-use site that makes money from advertising. We have a modified experience for viewers using ad blockers

Wikia is not accessible if you've made further modifications. Remove the custom ad blocker rule(s) and the page will load as expected.