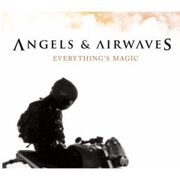 "Everything's Magic" is the second track and first single released from the album I-Empire by Angels & Airwaves. It was released October 29th, 2007. However, before its release, it leaked onto radio stations and on September 12th, it was #2 on the iTunes rock chart.
The music video for "Everything's Magic" was released on September 24, 2007.
Track Listing
Edit
"Everything's Magic" (album version) – 3:51
"Do It For Me Now" (Acoustic) - 3:44
Ad blocker interference detected!
Wikia is a free-to-use site that makes money from advertising. We have a modified experience for viewers using ad blockers

Wikia is not accessible if you've made further modifications. Remove the custom ad blocker rule(s) and the page will load as expected.