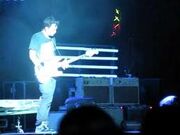 "Carousel" is the first track from the album Buddha Demo by Blink-182. It was released in January 1994. The song is the first track on Buddha remastered version, released on October 27, 1998. The song is the first track on the album Cheshire Cat, which wasI was released on February 17, 1994. This version is a little different to the others, Mark Hoppus's voice disappear and there is an intro bass and guitar. The bass intro is classified as one of the best part of bass.
There is no music video for this song.
It's the first song written by Blink-182 after meet of Mark Hoppus and Tom DeLonge.
Track Listing
Edit
"Carousel" (Buddha Demo Version) – 2:54
"Carousel" (Buddha Remastered Version) - 2:40
"Carousel" (Cheshire Cat Version) - 3:15