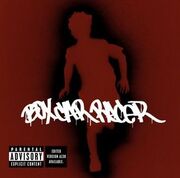 Box Car Racer is the first and only studio album by Box Car Racer. It was released on May 21st, 2002.
Track Listing
Edit
"All Systems Go"
"Tiny Voices"
"Cat Like Thief" (Feat. Tim Amstrong & Jordan Pundik)
"And I"
"Sorrow"
"There Is"
"The End With You"
"Elevator" (Feat. Mark Hoppus)
"Instrumental"
Ad blocker interference detected!
Wikia is a free-to-use site that makes money from advertising. We have a modified experience for viewers using ad blockers

Wikia is not accessible if you've made further modifications. Remove the custom ad blocker rule(s) and the page will load as expected.