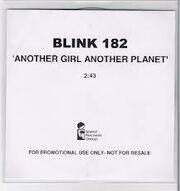 "Another Girl, Another Planet" is the seventheen track and second (and last) single from the album Greatest Hits by Blink-182. It was released December 23, 2005. This song (originally release on 1978) is a cover of the band The Only Ones. The music video of this song was released on 2005. This was also the last song Blink-182 recorded until their 2011 album Neighborhoods.
This song peaked at #9 on the U.S Billboard Pop 100.
Track Listing
Edit
"Another Girl, Another Planet" – 2:41
Ad blocker interference detected!
Wikia is a free-to-use site that makes money from advertising. We have a modified experience for viewers using ad blockers

Wikia is not accessible if you've made further modifications. Remove the custom ad blocker rule(s) and the page will load as expected.