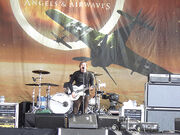 Angels & Airwaves is an alternative rock band formed in February 2005, shortly after the hiatus of blink-182.
In April 2007, bassist Ryan Sinn announced his departure from the band, and went on to be replaced by 30 Seconds to Mars bassist, Matt Wachter. In 2011, Atom announced that he was leaving the band. His replaced by Lostprophets drummer Ilan Rubin in 2012.
Band members
Edit
Studio Albums
Edit
Ad blocker interference detected!
Wikia is a free-to-use site that makes money from advertising. We have a modified experience for viewers using ad blockers

Wikia is not accessible if you've made further modifications. Remove the custom ad blocker rule(s) and the page will load as expected.